About Dental Treatments cost & charges 
Dental treatments are kinds of treatments that almost all people need to get in their life at least one time. At the same time, dental treatments are complex and costly operations that require the highest standard of dental expertise, high-quality dental materials specially designed for each patient, and some dental protocols. For these reasons, dental treatments may be expensive. 
Well, how is determined dental treatment cost or charges? 
Dental treatment cost is determined after calculating these expenses and evaluating these situations: 
Dental surgeon's charge, 

Dental laboratory fees, 

Sterilization material,

The surgery chair time,

The surgery administration,

Dental materials which are designed for each patient such as implants and crowns,

Dental treatment the patient needs,

Where the patient lives. 
In addition to these, dental surgeons' charges vary; experienced and attending dental surgeons may claim high pay for the dental work. 
Dental Treatments cost in Turkey 
In Turkey, like in other countries, the dental treatment cost depends on what treatment will be performed in the direction of patients' needs. In other words, your situation is quite determinative of dental treatment costs in Turkey. However, you can be sure that you'll pay the least in Turkey for dental treatment without making any concessions on the quality of the treatment you'll get. Because the dental treatment industry is quite competitive, many clinics and hospitals try to develop their services and make their standards higher while pushing down the dental treatment prices. 
The other positive feature of getting dental treatment in Turkey is its location. Turkey is a destination that is centrally located so it is easy to visit Turkey with short-time & low-cost flights. 
What's more, dental treatments in Turkey are provided people through all-in packages including consultation, accommodation, VIP local transfer, private translator & medical consultant and post-operative follow-ups. These all-inclusive packages are for the benefit of patients, and it can reduce the cost of all kinds of dental treatments by avoiding extra and unexpected expenditures. 
While having a premium dental treatment at a low cost just in 2 or 3 days, experiencing the cultural features of Istanbul or Turkey and enjoying your abroad holiday is totally up to you. 
Dental Treatments price comparison 
In order to evaluate the dental treatment cost in Turkey, here is the price list for implants: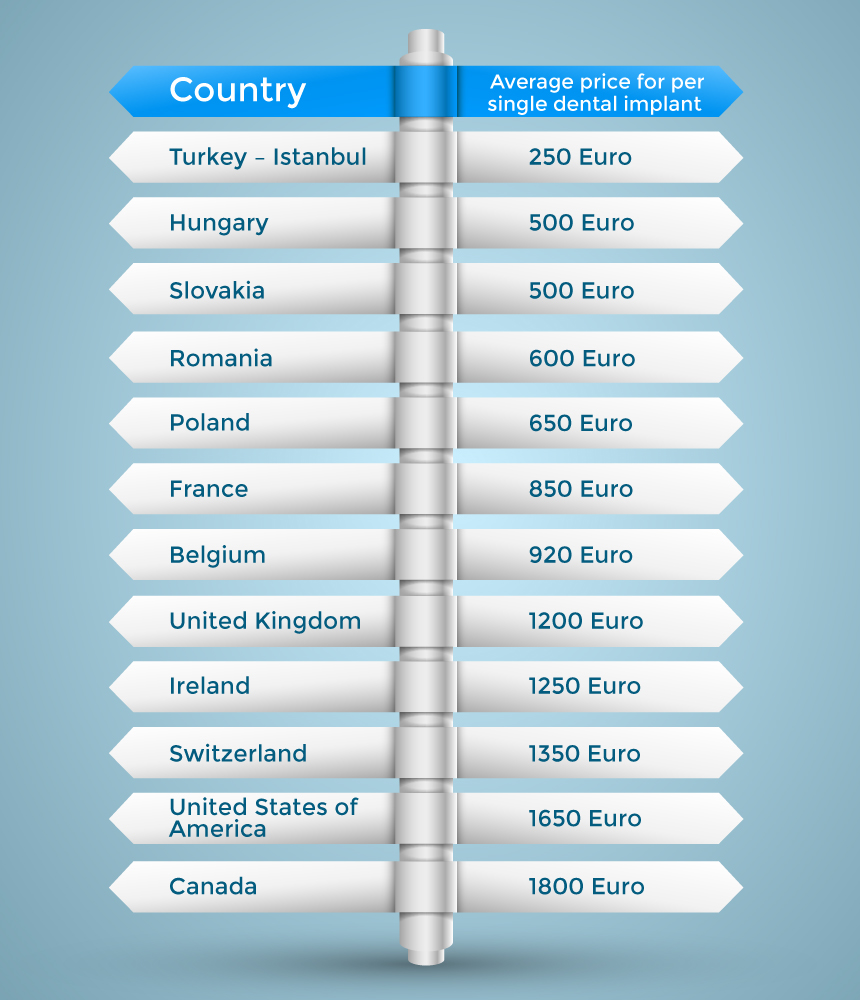 Apart from the implants, the other dental treatments show differences in price similarly. 
As a note, we'd like to remind you that high prices do not mean high-quality work; it is pretty possible countries like Turkey surprise you with the quality of the dental treatments and with their costs! 
Besides, for avoiding extra dental expenses, benefiting from dental insurance may be a good idea. 
Why is going Abroad for Dental Treatment a good idea? 
Every year, plenty of dental patients visit abroad for getting high-quality dental treatment at a reasonable price. This is because the prices of dental treatments are high in many countries such as the United Kingdom, Canada, the United States of America, France, Germany, etc. 
Many people who live in one of these countries can save up to 70% on dental treatment prices by coming to Turkey instead of getting treatment in their homes. This way seems quite cost-effective, and it is the right move to balance the dental treatment costs. 
So, we recommend you to open yourself up to the world to experience good dental treatment at a fair cost.