People who are looking for a permanent solution for hair loss choose Hair Transplant if they could not find a solution in medications and other methods or if they want to get a fast result. Hair Transplant is done by taking the healthy grafts from the donor area and implanting them in the baldness area, using different techniques that evolves by time according to needs and scientific and technological developments. These techniques affect the result of Hair Transplant directly.
It is important to know all techniques before you decide which one is best for you, let us take a look on Hair Transplant techniques together.
The Traditional Method: What Is FUT Technique (Follicular Unit Transplant)?
This technique exists since the first days of professional Hair Transplant. In this technique, small incisions are opened in the scalp, and then grafts are taken with their skin. Usually, the backside of the head is the donor area which it cannot be seen from outside. The skin slice's size changes according to the baldness area. After that, the procedure's area is stitched.
FUT is less expensive that other Hair Transplant techniques. In addition, it is very practical when baldness area is big and needs high density. Not only for Hair Transplant, also for Eyebrow and Mustache Transplant.
An Innovative Method: What Is FUE Technique (Follicular Unit Extraction)?
FUE (Follicular Unit Extraction) is an advanced technique in Hair Transplant, this technique entered Hair Transplant field at the beginning of the first decade of 20th century. In this method, which is done by experts, the grafts are collected individually from the donor area and then implanted in the baldness area with a device contains an accurate engine. FUE technique, which is a very effective technique for Hair Transplant in order to eliminate hair loss problems, a specific care in collecting grafts phase and implanting them one by one.
FUE technique does not require incisions in the skin. Therefore, there are no stitches after the procedure and no scars. This technique is still evolving, Robotic Hair Transplant is highly connected with FUE technique. In order to know more details about Robotic Hair Transplant, you can check our article "Robotic Hair Transplant: What Are Its Advantages?"
A Comfortable Method For The Patient: What Is DHI Technique (Direct Hair Implantation)?
It is possible to use Hair Transplant techniques together in order to achieve successful results. According to this, in DHI technique, the grafts are collected individually as in FUE technique, and then Hair Transplant is done with a needle called Choi Pen, its thickness between 0.6-1 mm.
In this technique, it is possible to determine the points to implant hair in them and implant hair at the same time. Therefore, the possibility of healthy hair to grow increases and the success rate of Hair Transplant.
The details that make DHI technique comfortable for the patient are there is no need to shave before the procedure. In this way, many people can spend the phase before the procedure without suffering any change in their appearance.
Let Us Compare Between All Methods!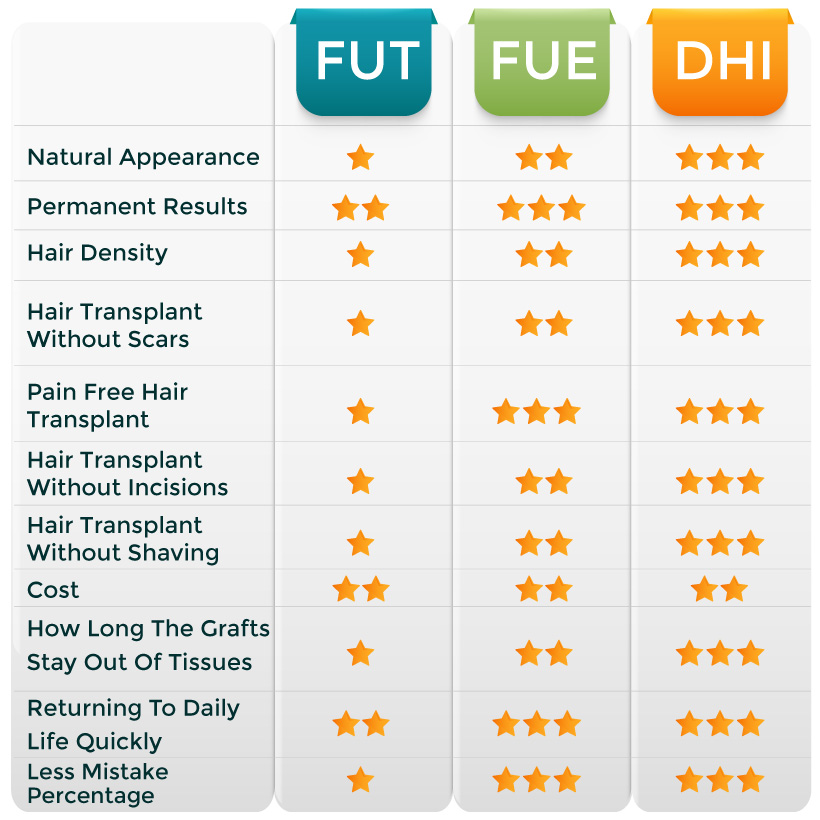 The Right Technique Increases The Success Of Hair Transplant.
Hair Transplant technique includes determining the density of grafts, designing the frontal hairline, and many other factors. In addition to how to perform the procedure, the applied technique is considered very crucial from the result's side. Hair Transplant technique chosen according to the patient's needs gives a preliminary look about the appearance of your new hair and how the procedure is going to be.
Hair Transplant results will accompany you for the rest of your life if there is nothing unusual. Selecting the right method with the help of an expert is very important to get a lifetime result. Therefore, speak with your doctor and share your expectations and concerns with him before the procedure.
It Is Not Just A Decision To Make: Trust Your Doctor.
You cannot decide the appropriate Hair Transplant technique for your condition by yourself. You can get detailed information about it through your researches and you can evaluate your needs and expectations. Therefore, the applied technique will be determined after the examination your doctor will make, this examination will provide you with detailed information about the number of grafts you need and your general health condition.
The results provided by the examination are crucial in determining the appropriate Hair Transplant technique for you. At this stage, according to the results, it is very important to set a vision that goes on with your doctor's advice and the expectations should be realistic.
Frequently Asked Questions