Hair transplantation has become increasingly popular among celebrities struggling with hair loss or thinning hair. In this article, you will see celebrity hair transplants which are successful. 
Examples of celebrities with hair transplants may be seen in some female celebrities as well as men (When you search in the internet like hair transplant female celebrities, results will reveal themselves. Some of the female celebrities who had Women Hair Transplant are: Jennifer Aniston, Fergie Duhamel, Oprah Winfrey, Naomi Campbell, Keira Knightley and Kim Kardashian. But today, we will discuss the male celebrities. 
It is important to keep in mind that the status of hair transplants may have changed since then. Although many celebrities are said to have had hair transplants, it is important to note that not all of them endorse or openly discuss the procedure. Also, the success of a hair transplant can vary depending on individual factors and the techniques used. Here is a list of some celebrities who are known to have had successful hair transplants.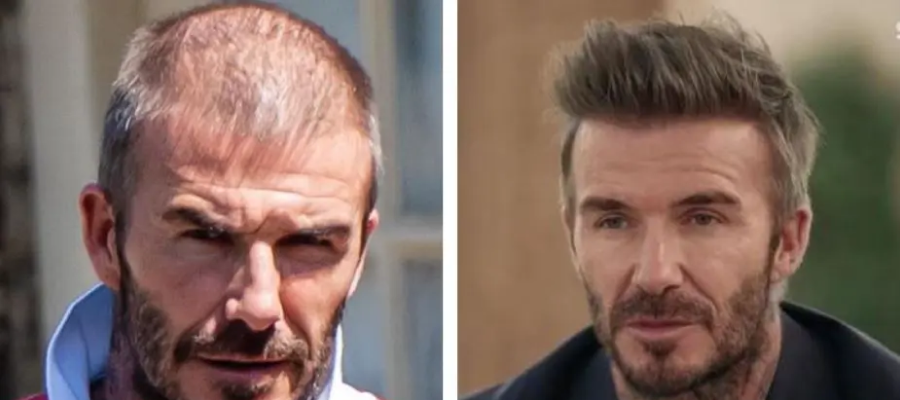 Which Celebrities Have Had Hair Transplant Surgery?
Celebrities, like anyone else, may choose to undergo hair transplant surgery for various reasons. Here are some common reasons why celebrities, as well as individuals in general, opt for hair transplant surgery:
Hair Loss or Thinning: Hair loss can affect individuals of all backgrounds, including celebrities. Hair transplant surgery provides a solution for individuals experiencing pattern baldness, receding hairlines, or thinning hair. Restoring a fuller head of hair can improve self-confidence and enhance their appearance on-screen or in public.

Aesthetic Considerations: Celebrities often face immense pressure to maintain a youthful and attractive appearance. Hair transplant surgery can help them maintain a desired image and preserve their marketability in the entertainment industry.

Professional Advantages: In the entertainment industry, where appearance plays a significant role, having a full head of hair can be beneficial for actors, models, and public figures. Hair transplant surgery allows them to maintain or enhance their on-screen presence and versatility in different roles.

Personal Satisfaction: Like anyone else, celebrities desire to feel satisfied and content with their physical appearance. Hair transplant surgery can help them achieve their desired look, contributing to their overall well-being and self-esteem.

Public Scrutiny: Celebrities often face intense public scrutiny and media attention. Hair loss or thinning can become a subject of criticism or tabloid speculation. Hair transplant surgery offers a way to address these concerns and regain control over their public image.
It's important to note that while hair transplant surgery can provide significant aesthetic benefits, individual motivations and experiences may vary. It is also important where you have your hair transplanted because issues such as hair transplant in Turkey are currently on the rise in the world.
Celebrities which can be defined as hair transplant celebrities, like anyone else, should carefully consider their reasons, consult with qualified medical professionals, and make informed decisions about their hair restoration options. Besides while these celebrities may have openly discussed or speculated about undergoing hair transplant surgery, individual experiences, and outcomes can vary. The success can be seen clearly in celebrity hair transplants before and after photos. 
Hair transplant surgery is a personal decision, and individuals should consult with qualified medical professionals to determine the most appropriate course of action for their specific hair loss concerns.
Yet several celebrities have openly discussed their experiences with hair transplant surgery. While it's important to respect individuals' privacy and personal choices, here are a few well-known celebrities who have publicly acknowledged undergoing hair transplant surgery: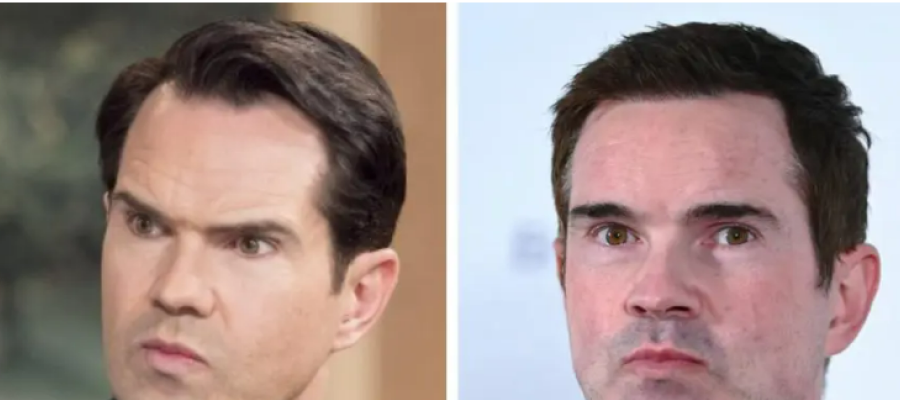 Jimmy Carr
There have been rumors and speculation surrounding comedian Jimmy Carr and his hairline for a while. It is widely believed that Jimmy Carr has undergone a hair transplant procedure to address his receding hairline. However, he has not publicly confirmed or discussed the specifics of any hair restoration procedures he may have had. Celebrities, including Jimmy Carr, often maintain their privacy when it comes to personal medical decisions and procedures like this. Yet as we look at his past photos, the difference between his old look and present is like evidence that he can be obviously seen that he surely had a hair transplant operation.

David Beckham
Another hot topic that continues to be discussed by many is retired professional footballer David Beckham and his hair. Since he has already evolved into a style icon, even after he retired, he is still a famous character. Therefore as with everything, his physical look has been also wondered and discussed.
It is often speculated that David Beckham has also had a hair transplant to address his receding hairline and maintain a fuller head of hair. Although he never revealed if he had or not, a hair restoration procedure can be recognized in his hair. According to experts, he probably had an FUE hair transplant which is considered the most effective type of hair transplant, and as a result, he had a successful hair transplant procedure.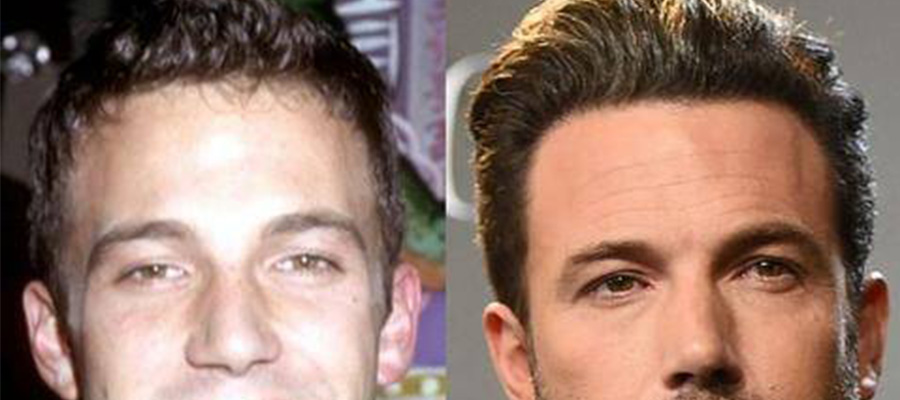 Ben Affleck
The famous actor Ben Affleck has been also considered to have a hair transplant procedure because of his past look. Since he has always been known for his hair, which tends to fall out, looks thin, and has a receding hairline (He was among the actors with receding hairlines). Therefore it is considered that he chose to have a hair transplant and ended his baldness problem. 
It can clearly be seen that the actor regained his former appearance with this procedure.

Tom Hanks
One of the important actors, Tom Hanks also had fine hair, especially in his middle ages. Yet stress and exhaustion from extensive filming caused the actor to have hair loss. Although Hanks has had some ups and downs with his hairline throughout the years, he always showed a receding hairline at the temples, characteristic of a Norwood 2 scale. 
This made him decide to have a hair transplant process and Hanks did reveal that he "topped up" his hairline with an FUE procedure around 2014.

Elon Musk
Elon Musk has been always experiencing thinned and receding hair in his early ages and by 2000, at 29 years old, after losing the front line of his hair, he faced severe hair loss.
Although there is not any confirmation, Musk, 50, is known for undergoing a hair transplant a few years ago. Looking at his hair, which looks natural as if it has not undergone any treatment, it can be seen that he has undergone a successful operation, which is most likely to be FUE (Follicular Unit Excision) according to experts.
David Silva
It seems that David Silva, a Spanish professional footballer who plays for La Liga club Real Sociedad, did undergo a hair transplant. He even shaved all his hair for better results by making it easier for doctors to work. 
Although he is only 37 years old, David Silva is one of the male celebrities who suffered from hair loss at an early age. He probably has had a Norwood scale 2 to 3 stage of baldness at the peak of his hair loss and it can be said that he probably got rid of this problem with the FUE technique.

Matthew McConaughey
Matthew McConaughey, one of Hollywood's favorite names, is talked about not only for his acclaimed performances in successful productions but also for his physical appearance like most famous names. Even there  is a word like matthew mcconaughey hair loss. Despite the allegations and rumors for long years that he had a hair transplant, he always denied but it is a situation confirmed by experts that he also had a hair transplant. Since he had the appearance of fine hair that was loose in the front, prone to shedding.

Gordon Ramsay
When you have a quick search on the internet, especially like celebrity hair transplant, you can be confronted with the consequences that Gordon Ramsay, the Multi-Michelin-starred celebrity chef, also suffers from Male Pattern Hair Loss. The famous chef is considered to have had a hair transplant procedure since the visible difference in his before-after photos.

Jude Law
Even if most celebrities never admit that they have a hair transplant procedure, talented British actor Jude Law, 50, is considered one of the celebrities who are certain to have a hair transplant operation. Since he always had a visible Male Pattern Baldness, or also known as Androgenetic Alopecia, especially around 26 years old, it started to reveal itself. 
Although his hair had a good density, his hair loss progressively increased in his 40s. Therefore it is thought that he underwent an operation by preserving the natural appearance of his V-shaped hairline. Because his hairline transformed from a V shape to a U shape around those times.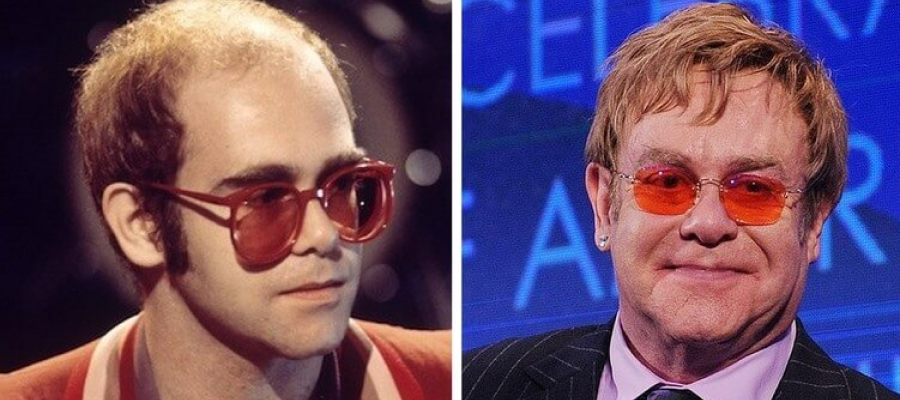 Elton John
Elton John, a famous British singer, pianist, and composer, always suffered from severe hair loss. He first started to experience hair loss at a young age and he decided to get a hair transplant back in the 70s when he was 30. Because as can be seen in his past photos, his hairline has begun to recede.
Therefore, even if technology and technique weren't as developed as today, he had his first hair transplant but he didn't reach the results he wanted. This made him undergo a second operation. Of course, neither of these two operations was successful because John's hair loss was mostly genetic.
George Clooney
One of the most handsome Hollywood stars, famous actor George Clooney, 62, also had a hair loss problem.
Like many men, he has faced the common issue of Male Pattern Baldness. Over the years, Clooney's hair has noticeably thinned, particularly in the crown area. Especially when hair starts thinning at the temples, it is known as Temple Hair Loss and it occurs on the side of the head, between the ears and eyes. This was the thing in Clooney's case. Therefore he also decided to undergo a hair transplant operation by having it only in some places with minimal touches to preserve his middle-aged, charismatic hairstyle. 
Wayne Rooney
Although English professional football manager and former player Wayne Rooney is a young man who is only 37, he also suffered from hair loss problems. He has also undergone an FUE hair transplant procedure because of dealing with his thinning hair.
Especially in his early 20s, around 2007-2008, his hair loss was already noticeable and he decided professional help. He is known for having at least two hair transplant surgeries.

Sylvester Stallone
The famous actor Sylvester Stallone, 74, who is mostly known for his movie character Rocky Balboa, despite his age, actually didn't experience significant hair loss. Yet maybe with Genetic Hair Loss, or maybe because of some other reasons, Stallone's had a hair transplant because his hairline started to recede (as being one of the celebrities with receding hairlines). It is rumored that he did a considerable payment and has gained healthier and fuller hair after a successful FUE operation.
Zak Hardaker
He is only 31 but it is alleged that Zak Alexander Hardaker, an English professional rugby league footballer, had a hair transplant procedure. Since having thinning hair, in January 2021, he had an FUE operation by spending 5000 GBP, and 2800 follicular units were transferred to his hair.

Mel Gibson
Although he never acknowledged it, Mel Gibson is one of the male celebrities who had a hair transplant story. Since he also suffered from Male Pattern Baldness or Androgenetic Alopecia. 
Even though cosmetic technologies were not so advanced in the early 2000s, he had a successful FUE operation. As can be seen in his before and after photos, the gaps in his forehead started to be closed.

Lewis Hamilton
Like many males, Lewis Hamilton, a 35-year-old famous racing driver, was suffering from hair loss. Since his father had a receding hairline, it is considered that his problem was hereditary. In addition, he was considered among balding celebrities. Therefore he decided to undergo a hair transplant process and he recovered after an FUE hair transplant. The results were so successful that his hairline was designed naturally and there were no scars on the back of his head.
Sean Penn
One of the famous directors and actors of Hollywood, Sean Penn was experiencing increasing hair loss on the front of his head like many other middle-aged actors. Although his problem started in his 50s, it increased day by day and finally, he also took advantage of recent developments in the health industry and got rid of his baldness problem after a hair transplant surgery. Therefore he is one of the actors with hair transplants now. 
Tom Brady
The famous American former football quarterback who played in the National Football League, Tom Brady, had thinned and significantly shed hair. He was determined to have a hair transplant procedure and chose a short hairstyle in 2005 (a shortcut is considered a sign of hair transplantation). As can be seen in his photos and videos, his scalp doesn't have any scars, so it seems he has had an FUE technique.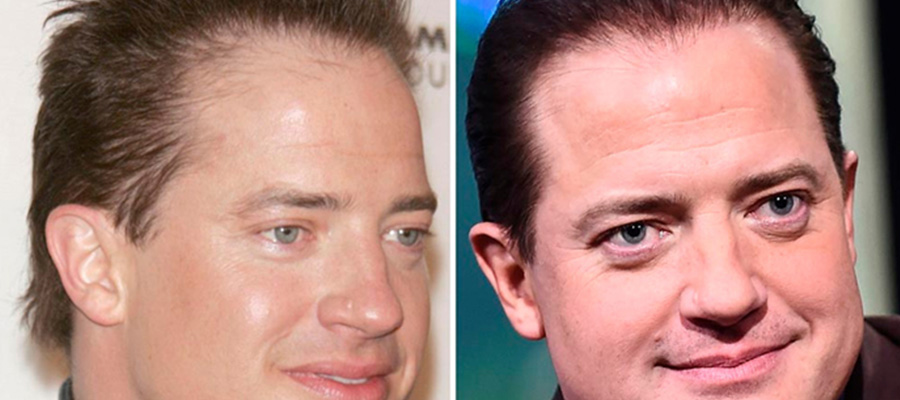 Brendan Fraser
Because there have been lots of news and stories about Brendan Fraser and his hair transplant, according to experts he had his hair transplant. The famous actor, who is mostly known for his role in The Mummy, was suffering from thinning and rapidly falling out hair and his baldness started to reveal itself clearly in 2008. Therefore he had his transplantation process and achieved his "dream hair look" in the most natural way. His successful hair transplant results also drew attention at the 2023 Oscar Awards Night, in which he got an Oscar award as the Best Actor for his success in ''The Whale'' during his speech.
Prince Harry
According to hair experts, even if there are some other opinions about it, Prince Harry probably had a hair transplant operation. Since he had a Male Pattern Hair Loss which is caused by a combination of hormonal and hereditary factors. Maybe he could have a non-surgical treatment like PRP or some medications, but it is crystal clear that he does have a fuller and thicker hair look in his head and it could only be after a surgical operation. The success behind his new and good hair look could be because of those treatments for slowing hair loss and increasing hair volume.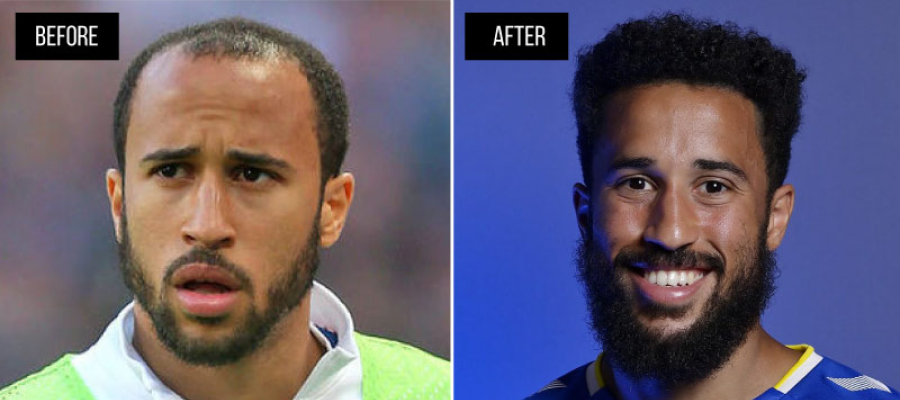 Andros Townsend
Andros Darryl Townsend, the English professional footballer, had an early hair loss in 2016, at the age of only 25 or 26 by experiencing receding and thinning at the front. After then, his hair underwent a dramatic change and started to look coverage on his scalp. This magical transformation including getting hair back and regrowth is considered a result of a hair transplant. As we look back at his 2017-2018 pictures, there is no doubt that the Andros Townsend hair transplant took place.
Harry Kane
Famous English professional footballer who plays as a striker in the Premier League, Harry Edward Kane has always suffered from Male Pattern Hair Loss and had a visible receding hairline. Therefore he chose to have a hair transplant in 2018 and his hair is looking thicker than ever. It's alleged that he's had two more hair transplants since his first one and concluded to reach his desired look.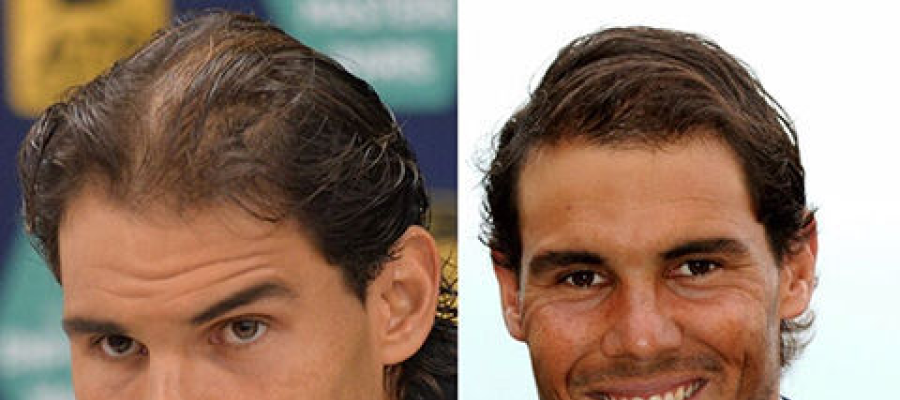 Rafael Nadal
Although he has never been admitted to or denied, it is believed that famous Spanish professional tennis player Rafael Nadal, 37, who is one of the most important and well-known tennis players has also been involved in an FUE hair transplant by 4,500 follicles into the top of his scalp. His hair transplant has been intriguing so many people around the world because he had been experiencing a hair loss type which is mostly known as Androgenetic Alopecia, a common hair loss type for 80 % of men, for long years. Yet, especially in 2016, it can be seen that he had gotten a hair transplant because of that his hair was looking dense and thicker
Celebrity Hair Transplant Before and After Best Celebrity Hair Transplant Results
Hair transplants have become increasingly popular among celebrities and regular individuals alike. As a result of the latest developments in techniques and positive changes that lead to the preference of hair transplantation, not only ordinary people but also celebrities prefer hair transplantation with operations that create successful results that do not require a complete change in their appearance.
It's important to note that the success of a hair transplant can vary depending on individual factors such as the extent of hair loss, the quality of the donor hair, and the expertise of the surgeon performing the procedure. Therefore, it's essential to consult with a qualified professional if you're considering a hair transplant yourself. Additionally, for the most up-to-date information on celebrity hair transplant results, I recommend researching recent articles or consulting reputable sources.
The Increasing Popularity of Celebrity Hair Transplants
Hair transplants have become a popular option for individuals experiencing hair loss, and many celebrities have openly discussed their experiences with the procedure. However, it's important to respect an individual's privacy when it comes to their personal choices and medical treatments.
Ultimately, the decision to pursue a hair transplant or any other hair restoration method is personal, and it is up to each individual to share or keep their experiences private. It's best to rely on verified information and statements directly from the individual in question to determine whether they have undergone a specific procedure.